NEWS
2019-08-30 18:53:00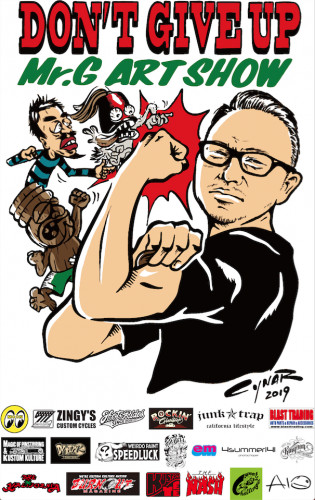 いよいよ、来週末9月7日(土)よりTHE KALIFORNIA
GALLERYにて「DON'T GIVE UP Mr.G」グループシ
ョーが開催されます。
オープニングレセプションは、9月7日(土)、9月8日
(日)の2日間。
オープニングレセプションの2日間は、Mr.Gと今ま
で一番長きに渡り世界中を共にして来た戦友であり、
先輩アーティストのマコトを招き、トークショーを
1日1回(午後3時~)開催いたしますので、お楽しみに。
また、このようなバナーを作り、来場者の皆さまに
バナーの裏にMr.Gへのメッセージやサインを書いて
いただき、最終的にはそのバナーをMr.Gに渡そうと
思っておりますので、どうぞご協力をお願いいたし
ます。
また、作品を出展してくださる参加アーティストた
ちは、下記の通りです。
Mr.G(ZINGY'Sの浅川様より、Mr.Gの仕上げたオリ
ジナル作品を2点ドネーションしていただいたので、
出展させていただきます)、WILDMAN(MOON
EYES)、マコト、SPEED LUCK、THE BELL、
em、4SUMMERI4L、Kingson、CYNAR、AI、THE
NASH.以上10名です。
また、協賛はZINGY'S様、HOT RIDES様、DIRTY
K様、ROCKIN' CRUISIN様、JUNK TRAP様、BLAST
TRADING様、4SUMMERI4L様となっております。
作品は、来週のショー直前にまた、公開させてい
ただきますので、しばらくお待ちください。
We have Mr.G tribute group art show "DON'T GIVE
UP Mr.G" from next weekend Sep,7th.
Opening reception is Sep,7th Sat and 8th Sunday.
We have special guest Makoto. Makoto has most
longest time friendship and relationship with Mr.G.
They are Kustom Kulture best buddy!!
So we should have panel discussion from 3:00 pm
with Makoto on Sep,7th and 8th. Don't miss it!!
They are featuring artist.
Mr.G(Mr.Asakawa from Zingy's donated 2 Mr.G's
art pieces),Wildman(Mooneyes),Makoto,Speed
Luck,The Bell,em,4SUMMERI4L,Kingson,CYNAR,
AI,THE NASH.
Also they are special sponsors to the show.
ZINGY'S,HOT RIDES,DIRTY-K,ROCKIN' CRUI
SIN,JUNK TRAP,BLAST TRADINGand 4SUMMERI4L.
Thank you so much huge support the show!!
Show art pieces should post next week.
See you at the show!! Please support to Mr.G!!
Thank you!!